According to Taylor, this new series of guitars was born out of the necessity due to the Covid 19 crisis. This may or may not be entirely true but what is for sure is that they set out to make a professional level guitar with a very basic amount of appointments at a pretty reasonable price. It may have just been serendipitous timing that their launch corresponded with the Covid crisis but in either case, we think that these new models look very nice, very interesting and they are (compared to other Taylor guitars) pretty reasonably priced. CLICK HERE to view these guitars.
There are 3 models, the AD17, AD17 Blacktop and the AD27 which is the Mahogany top version. All three versions are non cutaway and all three come with or without their ES2 pick up system (which is fantastic BTW). Each guitar also comes with their AeroCase. This is basically a really deluxe gig bag and for some people this might be a bummer not to get a hard shell case but others a bonus. It is a fantastic gig bag that sells for over $200 CDN so it is not a cheap case.

All three guitars feature Chamfered edges which are basically rounded edges on the body. This makes for a really comfortably guitar to hold, no sharp edges. They all have a .002 inch matte finish that while less expensive to apply also allows the guitar to really resonate plus it ties in the basic vibe. All models feature Taylor's relatively new V-Class bracing which really does improve upon the older X bracing in terms of sustain and intonation. All three guitars are in the Grand Pacific body shape which is very close in size and dimension to a typical dreadnaught shaped guitar.
The AD17 has solid Ovangkol sides and back paired with a solid spruce top. This combination is the most versatile in the sense that the guitar is capable of strumming with a loud band or finger picking in a quiet coffee house. Available with or without the ES2 pick up system.
The AD17 Blacktop is the same with a top finished in a solid matte black.
The AD27 features solid Sapele sides and back with a solid mahogany top. A mahogany guitar is often referred to a flat pickers guitar because of the tone mahogany produces however, when paired with the Sapele sides and back, this instrument is a fair bit more versatile with more mid range in its tone. Really good for flat or finger picking but also suitable for flat out strumming too.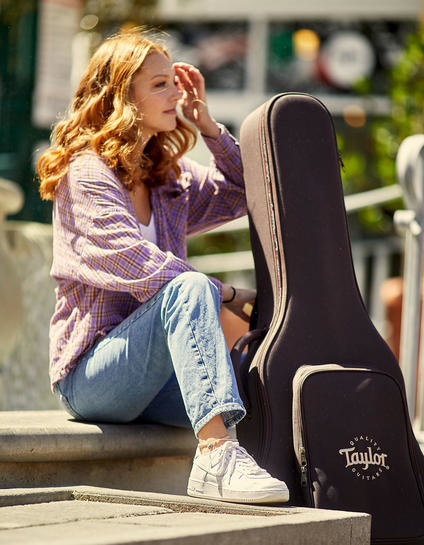 In the $2000-$2400 range these guitars are not for everyone but if the price doesn't scare you away these guitars look to be some of the best value in the Taylor line.
We expect to start receiving these guitars any day now so watch for them. CLICK HERE to SHOP.